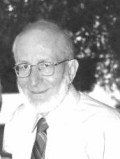 Dr. Irving Kaufman, Tempe, Arizona. Age: 85 Died on July 14, 2010. Irving Kaufman was a long distance traveler, whether it was to live his dream of running the marathon in Greece at the age of 54, or to escape Nazi Germany as a child of 13 to become a respected professor of Electrical Engineering at Arizona State University. Dr. Kaufman died on the morning of July 14 in the Health Care Center at Friendship Village in Tempe after a long illness. He and his wife Ruby Kaufman moved to Friendship Village twelve years ago. Previously, they had lived for 33 years on Loma Vista Drive in Tempe.
Dr. Kaufman was born in Geinsheim, Germany, on January 11, 1925. His parents Albert and Hedwig Kaufmann sent him in 1938 to live with an aunt and uncle in Nashville, Tennessee, before perishing in the Holocaust. A year earlier, they had sent his older brother Menachem to Israel. The two brothers stayed in close touch, although it was 25 years before they would meet again in Jerusalem when Dr. Kaufman was on his first overseas business trip.
As a high school student in Nashville, Dr. Kaufman thought he might become an electrician, but a high school counselor suggested he transfer to the college track and he went on to graduate from Vanderbilt University in 1945 with a Bachelor?s of Engineering. After several years of working at RCA Victor in Indianapolis and Camden, New Jersey, he was admitted to the graduate program in electrical engineering at the University of Illinois in Urbana. A fellow student in the engineering department at U. of Illinois introduced Dr. Kaufman to his future wife, a Chicago-born social work student named Ruby Dordek. They were married in 1950 and subsequently had three daughters, Eve, Sharon, and Julie. Dr. Kaufman graduated with a Ph.D. in Electrical Engineering in 1957 and moved his growing family to Los Angeles, where he worked in the burgeoning space industry for Ramo-Wooldridge and Space Technology Laboratories.
His daughters remember magical weekend tours of laboratories filled with nascent satellites covered with shiny blue solar panels. In the early 60s, Dr. Kaufman decided he wanted to leave industry to go back to teaching and academic research and began discussions with Arizona State University. But he also had a yen for travel. At a meeting in Denmark, he had met engineers from a microwave research institute at the University of Florence in Italy. With their encouragement, he applied for a Fulbright Scholarship to spend a year as a visiting scientist at the Consiglio Nazionale delle Ricerche, in Florence. Coincidentally, the ASU faculty appointment and the Fulbright award came through at the same time. Dr. Kaufman and his wife spent a week wondering, "Phoenix or Florence"? They settled on Florence, hoping that the ASU administration would allow him to defer his faculty position for a year. The Kaufman family packed their belongings and boarded a ship for Genoa and a year of adventures abroad. Their sunny, fifth-floor apartment in Florence served as a temporary home-base for younger Fulbright scholars--painters, sculptors, musicians, and writers--who needed a home-cooked meal and an evening of conversation.
Meanwhile, Dr. Kaufman learned to lecture in Italian and wrote research papers with his new colleagues. Years later, in 1973-74, Dr. Kaufman was awarded another Fulbright scholarship--a travel grant--that included another six months in Florence and six months as a visiting professor at the University of Auckland in New Zealand. Dr. Kaufman officially began his ASU career in 1965. He was known for starting each class with a joke, his high academic standards, his open-door policy for advisees and other students, and his love of research. He was founding director of the Solid State Research Laboratory at ASU from 1968-1978. From the beginning of his tenure until he retired in 1994, he was a familiar sight commuting down College Avenue--a Lincolnesque figure in a straw hat riding his ancient, dark-red, high handle-barred bicycle that he had owned since graduate school. Dr. Kaufman and his wife continued to travel. From 1978-1980, he served as a liaison scientist with the U.S. Office of Naval Research based in London, reporting on scientific advances throughout Europe.
It was during that sabbatical that he accomplished his dream of running the original marathon in Greece--the time didn't matter--it was the history and the achievement. (He began running at age 42 and the marathon in Greece was his sixth.) Other work-related trips included two stints as a collaborating scientist at Los Alamos National Laboratory in 1989 and 1991. His final trip to Italy, with his wife, daughter Sharon Kaufman-Osborn, and grandson Jacob Kaufman-Osborn, occurred in 2003, after he was already beginning to experience the memory loss that robbed him of so much in his final years. Despite that memory loss, however, Dr. Kaufman continued to share jokes, compliments, and loving comments with his wife and caregivers until the final weeks of his life.
Dr. Kaufman was a Fellow of IEEE and received a leadership award from the Phoenix chapter in 1994. His honors included the Distinguished Research Award from the ASU Graduate College in 1986-87 and membership in the following honorary societies: Sigma Xi, Tau Beta Pi, Eta Kappa Nu, Pi Mu Epsilon, and the Electromagnetic Academy. He published numerous papers in his field and received more than 15 patents. Dr. Kaufman is survived by his wife Ruby and his three daughters and their spouses: Eve and Nick Nichols of Lexington, Massachusetts; Sharon and Tim Kaufman-Osborn of Walla Walla, Washington; and Julie Kaufman and Elizabeth Wright of Evanston, Illinois. He has six grandchildren: Matthew Nichols, Elizabeth Nichols, Jacob Kaufman-Osborn, Tobin Kaufman-Osborn, Micah Kaufman Wright, and Kaethe Wright Kaufman, and three great-grandchildren.
A memorial service will take place on August 3 at 10:30 a.m. in Skirm Auditorium at Friendship Village, 2625 E. Southern Ave., Tempe. In lieu of flowers, donations may be made to Hospice of the Valley (Fund Development, 1510 E. Flower St., Phoenix, Arizona, 85014), the Hillel Jewish Student Center at ASU (1012 S. Mill Ave., Tempe, AZ 85281), or the charity of your choice.